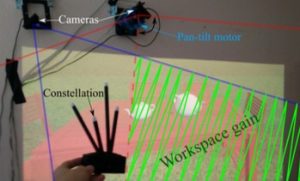 Increasing Optical Tracking Workspace of VR Applications using Controlled Cameras at IEEE 3DUI 2017 and IROS 2017
G. Cortes, E. Marchand, J. Ardouin, A. Lecuyer

.

An Optical Tracking System based on Hybrid Stereo/Single-View Registration and Controlled Cameras

. In

IEEE/RSJ Int. Conf. on Intelligent Robots and Systems, IROS'17

, Pages 6185-6190, Vancouver, Canada, September 2017.