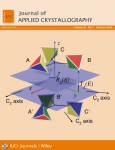 Our new method Spherical polar Fourier assembly of protein complexes with arbitrary point group symmetry, developed in collaboration with Dave Ritchie at INRIA made the cover of the Journal of Applied Crystallography!
Continue reading
Stephane Redon presented SAMSON at TEDxGrenoble. The video is available here.
NANO-D has a new website, please update your bookmarks!