LCC log-Demons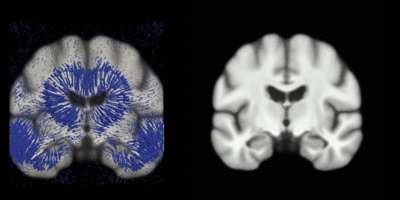 LCClogDemons is an accurate and robust diffeomorphic registration framework based on stationary velocity fields (SVF) generalizing the log-Demons.
It implements the symmetric Local Correlation Coefficient (LCC) as a similarity measure, and thus it is unbiased with respect to local linear intensity bias of the images.
LCClogDemons is suited for both inter and intra-subject registration, and compares well with respect to state-of-art methods. Thanks to the stable and consistent scheme for the computation of the Jacobian determinant of the transformation, LCClogDemons represents a reliable instrument for Tensor Based Morphometry (TBM).
The average registration time for typical 3D images is around 30 minutes for a single core on a Xeon platform 2.66Ghz quad core, 4Gb RAM.
Reference to cite:
Download LCClogDemons V1.2. This version implements the penalisation of the similarity term via a confidence mask and corrects some bugs in the Jacobian computation.
SVFTools
Some useful standalone tools for working with stationary velocity fields, including SVFExponential that implements the recursive computation of the exponential of a stationary velocity field (SVF).
Reference to cite:
Vincent Arsigny, Olivier Commowick, Xavier Pennec, and Nicholas Ayache. A Log-Euclidean Framework for Statistics on Diffeomorphisms. In Proc. of the 9th International Conference on Medical Image Computing and Computer Assisted Intervention (MICCAI'06), Part I, number 4190 of LNCS, pages 924-931, 2-4 October 2006.
PoleLadder
This program implements the parallel transport of a stationary velocity field (SVF) X along the direction of a SVF Y.
Reference to cite: