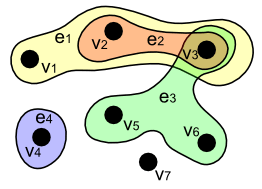 The objective of Grph is to provide researchers and engineers a suitable graph library for graph algorithms experimentation and network simulation. Grph is primarily a software library, but it also comes with a set of executable files for user interaction and graph format conversion; as such, it can be used autonomously. Performance and accessibility are the primary targets of the Grph library. It allows manipulating large graphs (millions of nodes). Its model considers mixed graphs composed of directed and undirected simple- and hyper-edges. Grph comes with a collection of base graph algorithms which are regularly augmented.
Grph includes bridges to other graph libraries such as JUNG, JGraphT, CORESE (a software developed by the WIMMICS team INRIA-I3S), LAD (Christine Solnon, LIRIS), Nauty (Brendan D. McKay), as well as specific algorithms developed by Matthieu Latapy and Jean-Lou Guillaume (LIP6), etc.
Visit the website
BigGrph is a distributed graph library. It supports shared-nothing clusters and comes with facilities for Torque and OAR clusters. BigGrph aims at helping the Research in distributed graph algorithmics. For this reason it proposes several programming paradigms: in addition to BSP and Map/Reduce, BigGrph supports asynchronous message passing, centralised, systolic, and mobile-agent based programming models.
BigGrph can be used from within the researcher's IDE. To allow this, it features automatic deployment of executable code, transparent retrieving of remote standard outputs/exceptions, and remote debugging.
The use of various optimization techniques (adequate data structures, parallelism, compact data encoding, etc) results in excellent overall performance. It loads and computes data faster than Giraph and GraphX, while requiring less memory.
Visit the website