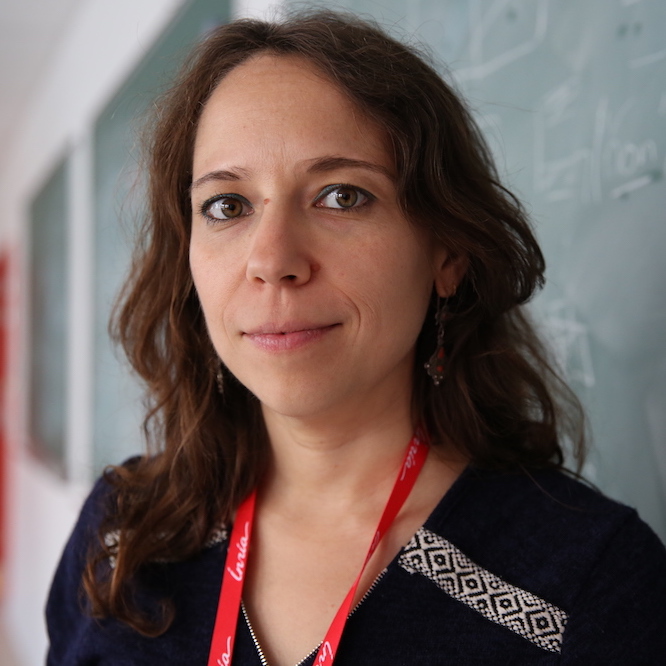 Maître de Conférences (lecturer) Université de Montpellier / Polytech Montpellier
Member of Lemon and hydrosciences Montpellier (UMR 5569)
Email:
carole (dot) delenne (at) inria (dot) fr
Phone:
+33 4 67 14 95 97
Office:
(2nd floor)
Address:
Inria-Équipe LEMON
Bât 5 – CC05 017
860 rue Saint-Priest
34095 Montpellier Cedex 5
France
Orcid

https://orcid.org/0000-0001-6683-4399
Teaching
Polytech Montpellier, Sciences et Technologie de l'Eau (STE) / Eau et Génie Civil (EGC). Below is a list of the courses I teach or have taught:
Hydraulics:

Cours hydraulique à surface libre (EGC3) pdf;
TP hydraulique (STE3, EGC3, STE4);
Hydraulics Specialization (STE4 – in English);
TD Hydraulique numérique (STE4);
TD Transitoires en hydraulique (STE4);
TD hydraulique (IUT Génie Civil);
TD Modélisation hydraulique 2D (STE5);
Réseaux d'Adduction d'Eau Potable (STE4, STE5, CNAM): prise en main Epanet;
Mécanique des fluides (STE3);

Engineering Mathematics
Informatics

CM/TD  Algorithmes et programmation (STE3, EGC3);
CM/TD Excel (STE3, EGC3);
CM/TD VBA (STE3);
Research
Supervision
Vita Ayoub: 2018-2022 – Assimilation of satellite derived flood information for better parameterizing and controlling large scale hydraulic models over data scarse areas (abstract). Co-supervised with R. Hostache (IRD, previously at LIST).
Yassine Belghaddar: 2019-2022 – Data fusion for urban network mapping. Application to sanitation networks (abstract). Co-supervised with Ahlame Begdouri (LSIA/USMBA), Nanée Chahinian (HSM/IRD) and Abderrahmane Seriai (Berger-Levrault)
Fadil Boodoo: 2022-2025 – Hydrodynamic modelling and artificial intelligence for rapid flood inundation forecasting (abstract). Co-supervised with R. Hostache (IRD).
Research topics
hydrodynamics modelling: shallow water equations, numerical methods, shallow water models with porosity.
Sensitivity analysis: sensitivity equations with discontinuous solutions, local sensitivity for uncertainty analysis, parameter estimation.
Remote sensing: water surface estimation, pattern recognition, model calibration.
Data collection and fusion for knowledge production: gathering various types of data in the aim of producing a regular and complete mapping of urban sewage systems. This includes the use of remote sensing, deep learning, data mining, text analysis, etc. Several statistically possible networks are generated including an uncertainty associated to each piece of information, that will be taken into account in the final hydraulic modelling.
HDR
Habilitation à diriger des recherches, 2014 – "Propagation de la sensibilité dans les modèles hydrodynamiques. Analyse d'incertitude et estimation des paramètres."
 Publications and conferences
The list is exhaustive only for publications in international journals.
2022
2021
2020
2019
2018
2017
2016
2015
2014
2013
2012
2011
2010
2009
2008
2006
2005