General purpose
We use statistical analysis tools to automatically detect and classify MS lesions from MRI images. Below are shown different MS lesions types as they appear on MRI (T1-w, T2-w, Flair and gadolinium enhanced T1-w (Gd T1-w).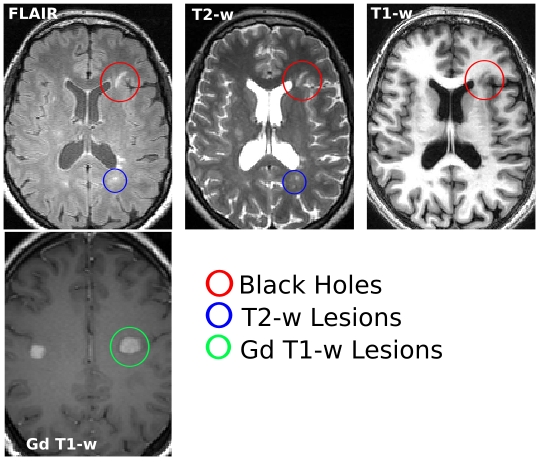 Description
To make the lesions detection less fastidious and error prone, we have proposed automatic and supervised procedures to segment MS lesions in longitudinal MR multi-sequences. Based on a parametric normal appearing brain tissue model (NABT), we have proposed a robust algorithm that allows the spatio-temporal segmentation of the abnormalities and propose an original rejection scheme for outliers using a new estimator: the Trimmed Likelihood Estimator.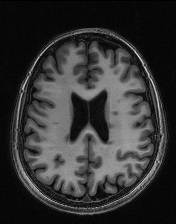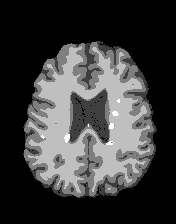 Two different segmentation methods were developed to have a better and more meaningful segmentation. On the one hand, a local segmentation approach, the Mean Shift, was used prior to the robust Expectation Maximization to classify these regions as NABT or lesions. On the other hand, the robust EM-based approach has been used to discriminate between MS lesions and NABT and to initialize the above graph-cut and spectral gradient segmentation scheme. Evaluation was performed on synthetic and real images and compared over previously published methods showing superiority thanks to the ability to interactively improve the segmentation by the Graph Cuts.
Related Publications of the Team
2023
Journal articles
Conference papers
Poster communications
2022
Journal articles
Conference papers
2021
Journal articles
Conference papers
Poster communications
Proceedings
2020
Journal articles
2019
Journal articles
Conference papers
Theses
2018
Journal articles
Conference papers
Preprints, Working Papers, …
2017
Journal articles
Conference papers
Preprints, Working Papers, …
2016
Journal articles
Conference papers
Proceedings
2015
Journal articles
Conference papers
Theses
2014
Journal articles
Conference papers
2013
Journal articles
Conference papers
2011
Journal articles
2010
Theses
2009
Conference papers
2008
Journal articles
Conference papers
2006
Conference papers
2005
Conference papers
2003
Conference papers