HEMISFER: 

Hybrid Eeg-MrI and Simultaneous neuro-feedback for brain Rehabilitation
Project goal
The goal of HEMISFER is to make full use of neurofeedback paradigm in the context of rehabilitation and psychiatric disorders. The major breakthrough will come from the use of a coupling model associating functional and metabolic information from Magnetic Resonance Imaging (fMRI) to Electro-encephalography (EEG) to "enhance" the neurofeedback protocol. We propose to combine advanced instrumental devices (Hybrid EEG and MRI platforms), with new man-machine interface paradigms (Brain computer interface and serious gaming) and new computational models (source separation, sparse representations and machine learning) to provide novel therapeutic and neuro-rehabilitation paradigms in some of the major neurological and psychiatric disorders of the developmental and the aging brain (stroke, attention-deficit disorder, language disorders, treatment-resistant mood disorders, …). This project will be conducted through a very complementary set of competences over the different teams involved in HEMISFER (Visages Inserm U1228, HYBRID and PANAMA Teams from Inria/Irisa, EA 4712 team from University of Rennes I and ATHENA team from Inria Sophia-Antipolis).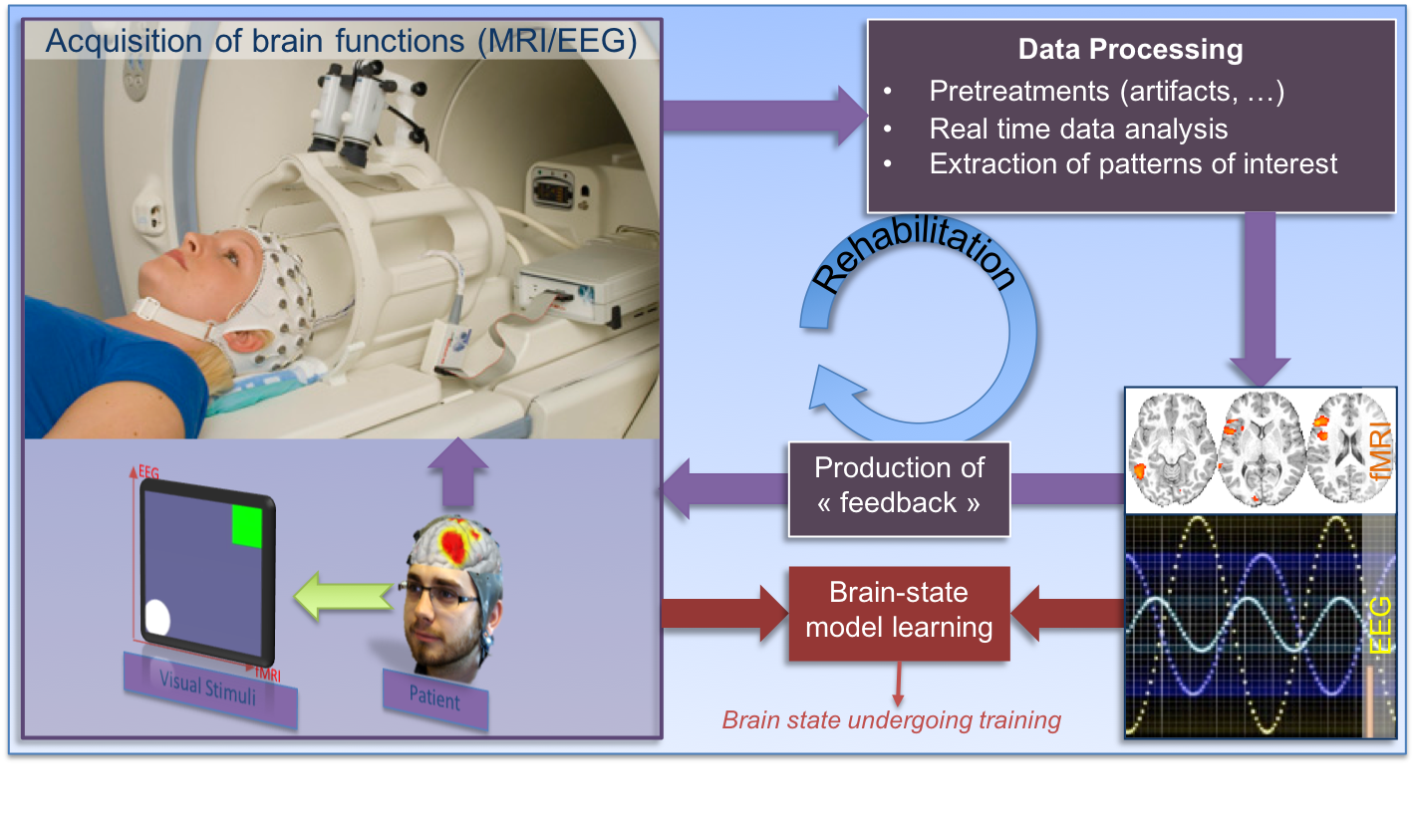 Project's summary 
Sub-projects
Hybrid EEG and fMRI platform for multi-modal neurofeedback
A Hybrid EEG-fMRI system for Neurofeedback (NF) is available at the Neurinfo platform (CHU Pontchaillou, Rennes France). It was developed by Marsel Mano and used by Lorraine Perronet for two NF studies.
In the following, its architecture and implementation will be shortly described. More details can be found in Mano et al., 2017. Moreover, since an equivalent system that operates bimodal EEG-fMRI NF is not commercially available at present, the authors have patented the architecture of the platform.
The NF platform at Neurinfo consists of different units: a EEG subsystem and fMRI unit for data collection, a NF unit for control and synchronization and a display to communicate with the subject.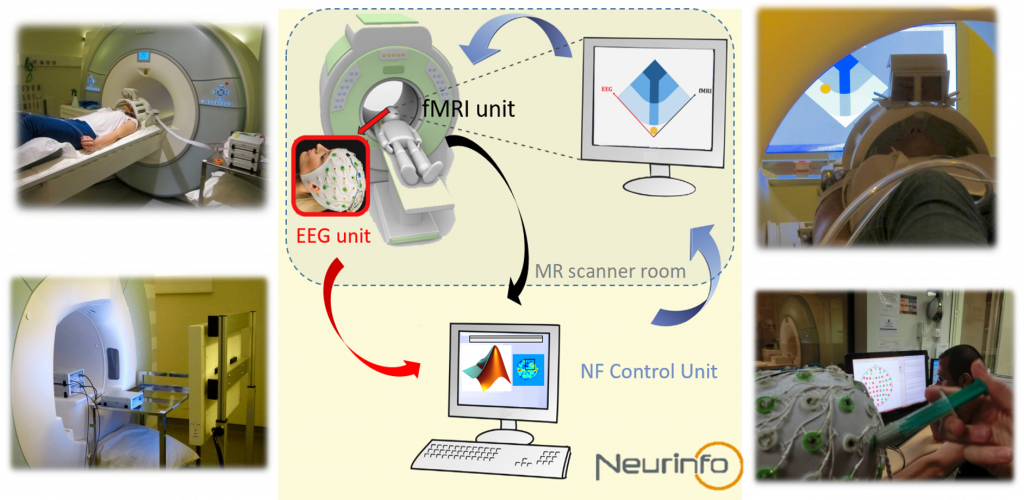 The EEG subsystem is an MR compatible solution from Brain Products. The EEG signals are acquired with a 64-channel cap, equipped with an electrocardiogram electrode. The electrodes are connected with two amplifiers that, through optic fibers, transfer the signal to the NF Control Unit outside of the MR bore.
The fMRI subsystem is a Nordic-Neurolab (NNL) solution with a Siemens 3T MR scanner. The MR imaging is performed on a Siemens MR scanner with a 64 channels head coil that allows secure installation of the EEG cap. The NNL hardware solution is used for visual stimulation and synchronization between the MR console and the Control Unit.
The Control unit is the core of the platform and it is responsible of the synchonized EEG and fMRI signal acquisition, preprocessing and NF computation. The NF control unit is also responsible for running the experimental protocol: this includes starting/stopping the experiment, controlling all other objects' behavior throughout the experiment, synchronization between different units of data acquisition and neurofeedback presentation, and finally saving all the experiment data.
The NF unit controls also the visualization: the instructions and the computed NF  are visualized though different animations that are showed to the subject by means of a MR compatible display positioned at the back of the MR bore and a rear facing mirror fixed at the top of the head coil.
Currently the plaftform is efficiently being used to perform NF experiments on volunteers and patients, however  its modular structure allows for introduction of other processing modules in view of future clinical applications.
e-poster from ISMRM 2017 conference:
Hybrid EEG and fMRI neurofeedback
EEG-fMRI neurofeedback of a motor imagery task (poster from OHBM 2016):
Sample movie of one motor imagery neurofeedback task combining EEG ("Y" axis) and fMRI ("X" axis) (works best with Google Chrome)
Coupling EEG and fMRI
An original approach for coupling EEG and fMRI information in neurofeedback is under development. This approach intends to learn relevant information from NF-fMRI in EEG only. The idea, is to improve the NF-EEG quality with complementary information, and limit the use of the fMRI, which is exhausting for the patient, and costly.
The consortium
The consortium involves the following co-PIs and teams:
CominLabs representatives : Christian BARILLOT (DR CNRS, INSERM Visages U746, IRISA CNRS 6074),  Anatole LECUYER (DR Inria, HYBRID Team, INRIA/IRISA CNRS 6074), Rémi GRIBONVAL (DR Inria, PANAMA Team, INRIA,) Isabelle BONAN (PU-PH, INSERM Visages U1228, Rehabilitation Dept. CHU Rennes)

External partners : Dominique DRAPIER (PU-PH, EA 4712, University of Rennes I, Psychiatric Hospital of Rennes), Maureen CLERC (DR Inria, INRIA ATHENA team, Sophia-Antipolis)
Project's members:
Current

: Jean-Marie Batail, 

Elise Bannier

, 

Christian Barillot, Isabelle Bonan

, Simon Butet, 

Maureen Clerc

, 

Dominique Drapier

, 

Remi Gribonval

, 

Anatole Lecuyer, Stéphanie Leplaideur, 

Pierre Maurel, Claire Cury, Mathis Fleury, Giulia Lioi

Past members

: Lorraine Perronnet, 

Jussi Lindgren

,

  

Marsel Mano

, 

Saman Noorzadeh, Thomas Oberlin, Nicolas Raillard
Related Links
Supporting Institutions
| | |
| --- | --- |
| Labex Cominlabs | |
| Fondation pour la Recherche Médicale | |
Contact
Contact: Pierre.Maurel@irisa.fr
Publications from the project
PhD's
Lorraine Perronnet. Combining electroencephalography and functional magnetic resonance imaging for neurofeedback. Medical Imaging. Université Rennes 1, 2017.
English. 〈NNT : 2017REN1S043〉. 〈tel-01661583〉
Abstract: NF is the process of feeding back real-time information to an individual about his/her ongoing brain activity, so that he/she can train to self-regulate neural substrates of specific behavioral functions. NF has been extensively studied for brain rehabilitation of patients with psychiatric and neurological disorders. However its effective deployment in the clinical armamentarium is being held back by the lack of evidence about its efficacy. One of the possible reason for the debated efficacy of current approaches could be the inherent limitations of single imaging modalities. Indeed, most NF approaches rely on the use of a single modality, EEG and fMRI being the two most widely used. While EEG is inexpensive and benefits from a high temporal resolution (millisecond), its spatial resolution (centimeters) is limited by volume conduction of the head and the number of electrodes. Also source localization from EEG is inaccurate because of the ill-posed inverse problem. In a complementary way, fMRI gives access to the self-regulation of specific brain regions at high spatial resolution (millimeter) but has low temporal resolution (second). Combined EEG-fMRI has proven much valuable for the study of human brain function, however it has rarely been exploited for NF purpose. In the context of NF, combining EEG and fMRI enables cross-modal paradigm evaluation and validation. But more interestingly it opens up avenues for the development of new NF approaches that would mix both modalities, either at the calibration phase or to provide a bimodal NF signal. Combined EEG-fMRI poses numerous challenges with regard to basic physiology, study design, data quality, analysis/integration and interpretation. These challenges are even greater if EEG and fMRI are both to be used simultaneously for online NF computation, because of the real-time constraint and the difficulty to find a task design compatible with EEG and fMRI' diverging natures. The theoretical part of this PhD dissertation aims at identifying methodological aspects that differ between EEG-NF and fMRI-NF and at examining the motivations and strategies for combining EEG and fMRI for NF purpose. Among these combination strategies, we choose to focus on bimodal EEG-fMRI-NF as it seems to be one of the most promising approach and is mostly unexplored. The feasibility of this approach was recently demonstrated and opened an entire new field of investigation. First and foremost, we would like to address the following questions: what is the added value of bimodal NF over unimodal NF; are there any specific mechanisms involved when learning to control two NF signals simultaneously; how to integrate EEG and fMRI to derive a single feedback ? The experimental part of this PhD dissertation therefore focuses on the development and evaluation of methods for bimodal EEG-fMRI-NF. In order to conduct bimodal NF experiments, we start by building up a real-time EEG-fMRI platform. Then in a first study, we compare for the first time bimodal EEG-fMRI-NF with unimodal EEG-NF and fMRI-NF. Eventually, in a second study, we introduce and evaluate two integrated feedback strategies for EEG-fMRI-NF.
Other publications
2020
Journal articles
Conference papers
Poster communications
Preprints, Working Papers, …
2019
Conference papers
2018
Poster communications
2017
Journal articles
Conference papers
2016
Book sections
Patents
Poster communications
2015
Conference papers