var _gaq = _gaq || []; _gaq.push(['_setAccount', 'UA-36815772-1']); _gaq.push(['_trackPageview']);
(function() { var ga = document.createElement('script'); ga.type = 'text/javascript'; ga.async = true; ga.src = ('https:' == document.location.protocol ? 'https://ssl' : 'http://www') + '.google-analytics.com/ga.js'; var s = document.getElementsByTagName('script')[0]; s.parentNode.insertBefore(ga, s); })();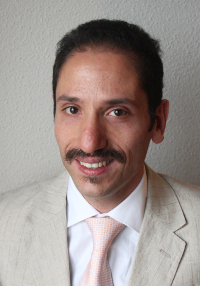 I am currently a PhD student at Grenoble-INP, and a visiting member of IMAGINE team at INRIA Rhone-Alpes. I am conducting my research under the supervision of Jean Claude Léon.
Research Interests
My current research is about extracting function properties of components and groups of components of a product based on its pure geometric representation. This is part of a joint effort in the frame of the ANR-funded ROMMA project.
Other research interests include: computational geometry, geometric modeling, computer aided design, graph theory, knowledge representation and reasoning, ontologies and semantic web.
Contacts
Email: ahmad [dot] shahwan [at] grenoble-inp [dot] fr
Telephone INRIA: +33 4 76 61 55 52
Homepage: http://pagesperso.g-scop.grenoble-inp.fr/~shahwana/


Academic Profile
| | |
| --- | --- |
| 2010 | Master of Science in Graphics Vision, and Robotics, Universite Joseph Fourier, Grenoble. |
| 2009 | Master's Degree in Computer Information Systems, Arab Academy for Banking and Financial Sciences, Damascus. |
| 2005 | Bachelor of Engineering in Information Technology, Damascus University, Damascus. |
Professional Career
| | |
| --- | --- |
| July 2008, September 2009 | Customer Application Analyst, ITS, Damascus, Syria. |
| December 2005, July 2008 | System Engineer, MABCO, Damascus, Syria. |
| September 2005, October 2005 | Web Developer, Technolead, Damascus, Syria. |
Teaching
| | |
| --- | --- |
| 2011/2012 | Algorithms and Data Structure II, at Grenoble-INP ENSIMAG |
| 2012/2013 | Computer Aided Design: Creo Parametrics, at Grenoble-INP GI |
| 2012/2013 | Programming Languages: C Project, at Grenoble-INP ENSIMAG |
Publications