Working environment and conditions
Environment
I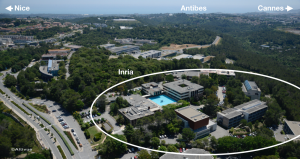 nria is the French national research institute for the digital sciences. World-class research and technological innovation are part of our DNA, with the aim of developing and supporting scientific and entrepreneurial projects that create value for France, within a European perspective.
The Inria Sophia Antipolis-Méditerranée Research Centre was established in 1983. It is located in Sophia Antipolis, a wide scientific park of approximately 1300 corporations and +30.000 jobs in R&D, mainly focusing on information technology, multimedia, medicine, and bio-technologies.
Inria is a member of Université Côte d'Azur, a recently created cluster of higher education establishments on the French Riviera that brings together the major players in higher education and research on the Côte d'Azur. Université Côte d'Azur aims to develop a new, 21st-century model for French universities, based on new interactions between disciplines, a new form of coordination between research, teaching, and innovation, and strong partnerships with the private sector and local authorities. In January 2016, Université Côte d'Azur won a prestigious "IDEX" award from the French government for its UCA JEDI project, placing it among the top 10 world-class, comprehensive universities in France.
Cost of living and subsidy from Inria
Housing
Inria provides support and advice to facilitate the search for accommodation in the technopole. Inria has agreements with several student residences and may also provide a subsidy for the rent (e.g., there are options for rooms at 90 euros per month, subject to availability).
The CROUS is handling all the student residences in the region. Their website also provides information on scholarships, restoration, culture, etc.
You may also find a place outside Sophia Antipolis by yourself through leboncoin.fr or apartager.com for collocations.
You may also apply for housing aid from the French government (Caisse d'allocations familliales, Caf). Note that this depends on many criteria, as the amount of the rent, the income of the person, etc.  (check conditions).
Meals
Inria is providing a subsidy for lunches in the Inria restaurant. It will cost you less than 5 euros for a full-course meal.
Public transportation
If you decide to leave outside Sophia Antipolis, you will find public transportation to reach:
Nice (bus line 230):  a monthly ticket for the 230 is around 20€ for students under 26 (see information). It takes 40-60 minutes to get from Nice to Sophia by bus depending on traffic.
Antibes (Envibus). A selection of buses from Antibes are "free" with a 5-year 5 euro pass (100 + navettes, and Line A only for the year 2020). Both the 100 and Line A arrive from the center (pole d'échange, place de Gaulle) to Sophia. Line A also reaches Juan les Pins. All types of passes can be found in this link. It takes 20-40 minutes to get from Antibes to Sophia by bus depending on traffic.
Useful links
Other hints
The website of the

UCA Welcome Center

 has very useful information on administrative formalities, housing, practical life. One can also contact them for additional help.