ABOUT ME
Short Bio
I have received my Ph.D. in Mathematics from Nice-Sophia Antipolis University, France, in 1998. I am a senior research scientist (Directeur de Recherche) at Inria, specialized in vision science. My current research is focused on unveiling fundamental mechanisms of visual perception of people with visual impairments, to predict their needs and better address them through the development of innovative solutions (using, e.g., virtual and augmented reality). I have co-authored more than 60 research papers and a textbook in image processing that received more than 2,000 citations (source: Google Scholar). I am an associate editor for the Computer Vision and Image Understanding journal.

Research trajectory: A journey in vision science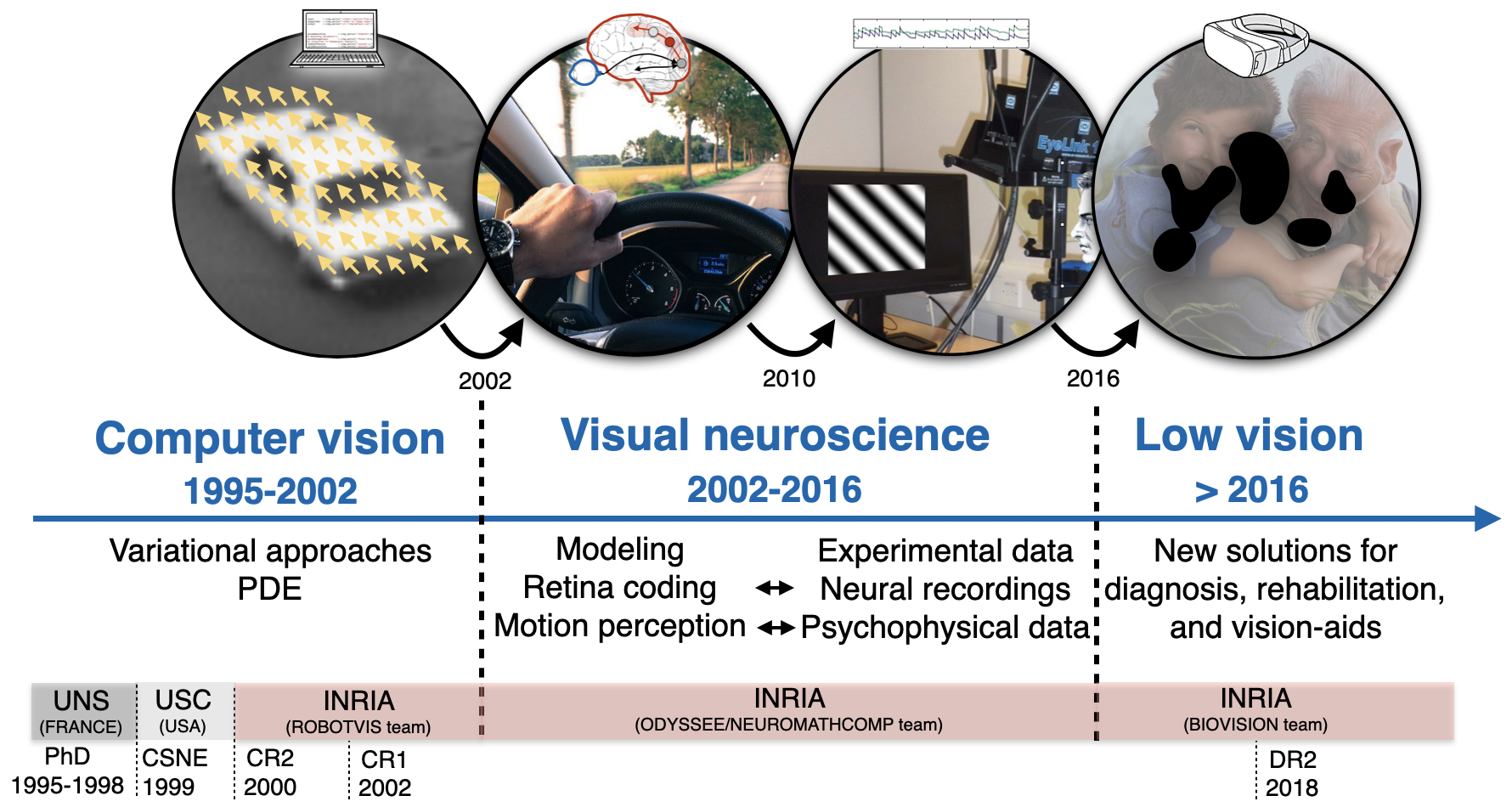 Fundings
I contributed to five European projects in neuroscience and computational neuroscience: FACETS ("Fast Analog Computing with Emergent Transient States", FP6-FET, 2005–2010), SEARISE ("Smart Eyes: Attending and Recognizing Instances of Salient Events", FP7-ICT, 2008–2011, WP leader), BRAINSCALES ("Brain-inspired multiscale computation in neuromorphic hybrid systems", FP7-FET, 2011–2015), MATHEMACS ("Mathematics of Multilevel Anticipatory Complex Systems", FP7-ICT, 2012–2014), RENVISION ("Retina-inspired ENcoding for advanced VISION tasks", FP7-FET, 2013–2016, WP leader).
---
EXPERIENCE
Vision science

I have been working into different facets of vision science: as computer vision, visual neuroscience and ophtalmology. My research is characterized by a rich interaction between theoretical models, applications and experimental data analysis. See a selection of projects and my list of publications.

Innovation

I am also deeply interested in the valorisation of research results.
Because the digital world is offering an amazing range of possibilities for everyone, especially people with disabilities, my aim is to bring innovative solutions as close as possible to the end user. See an example of recent valorization project.
---
HIGHLIGHTS
Below is a selection of five contributions that illustrate my research trajectory in vision science.
| | |
| --- | --- |
| | Mathematical Problems in Image Processing Partial Differential Equations and the Calculus of Variations, G. Aubert, and P. Kornprobst. Springer, New York, NY, Second Edition, 2006. This book (first edition in 2002) was at the time the only one explaining in detail the techniques of functional analysis and the theory of partial differential equations to study several fundamental questions in image processing. It encountered a large success, with +2000 citations (source: Google Scholar), 4440 books sold, and 26092 e-book chapter downloads. Associated code and more information is available here. |
| | Bio-inspired computer vision: Towards a synergistic approach of artificial and biological vision, N. V. K. Medathati, H. Neumann, G. S. Masson, and P. Kornprobst. Computer Vision and Image Understanding, 150:1–30, 2016. This paper provides new insights for researchers interested in the design of novel biology-based computer vision algorithms and paves the way for much-needed interaction between the two communities of artificial and biological vision, leading to the development of synergistic models. This paper has been the second most downloaded paper in CVIU for several months (2370 downloads between Oct. 2016 and Mar. 2017) and it has been selected as part of the 21st Annual Best of Computing. |
| | Virtual Retina: A biological retina model and simulator, with contrast gain control, A. Wohrer and P. Kornprobst. Journal of Computational Neuroscience, 26(2):219, 2009. The key novelty of the model was a new formulation of the contrast gain control mechanism described by a system of ordinary differential equations, which can encompass both spatial and temporal invariance to contrast, and for which mathematical results have been established. This works also resulted in a retina simulator which has been among the first retina simulator of its kind, allowing large scale simulations (up to 100,000 neurons) in reasonable processing times (around 2 seconds per frame on a standard computer). Virtual Retina received +100 citations and it has been used in academia in several theoretical and simulation studies. |
| | Bifurcation study of a neural fields competition model with an application to perceptual switching in motion integration, J. Rankin, A. I. Meso, G. S. Masson, O. Faugeras, and P. Kornprobst. Journal of Computational Neuroscience, 36(2):193–213, 2014. Contrarily to all former models of perceptual multistability, the neural fields model at the core of our study has a continuous feature space, which allows multistability to be investigated in a motion integration problem where the different percepts are represented on a continuous scale. The key idea was to use bifurcation methods for tuning parameters such that the model operates close to bifurcation whilst simultaneously matching known response properties from physiological studies. As a result, by combining modeling and empirical evidence we found a new computational rule explaining the switching behavior based on the signal-strength dependent interplay between noise and adaptation. Want to experiment yourself? fixate the center of the tristable stimulus for a few seconds… |
| | Towards Accessible News Reading Design in Virtual Reality for Low Vision H.-Y. Wu, A. Calabrese, and P. Kornprobst. INRIA Research Report, RR-9298, Oct. 2019 (submitted). This paper positions virtual reality as the next step towards accessible and enjoyable news reading for the low vision. We present a framework that integrates the design principles resulting from our analysis and implement a proof-of-concept for this framework using browser-based graphics to demonstrate the feasibility of our proposal with modern virtual reality technology. As a whole, this paper illustrates what is my current research focus, which is to unveil fundamental mechanisms of low vision people's visual perception to predict their needs and better address them through the development of innovative solutions based on virtual and augmented reality. |
---
SUPERVISION
I have been the advisor of 6 PhDs and +20 M.S. students, and have contributed to the mentoring of other French and foreign students. I have supervised the work of 6 postdoctoral fellows mostly in the scope of European projects I was involved in. Most of my past Postdoc and PhDs are now successfully working on computer vision or neuroscience in the academy or in industry. I have also supervised the work of engineers in the scope of valorization projects.
Past Ph.D. students
Past postdoctoral fellows and engineers
CONTACT
Postal address:

Inria Sophia Antipolis – Méditerranée
Biovision team
2004 Route des Lucioles – BP 93
06902 Sophia Antipolis Cedex
France

Email: pierre.kornprobst (AT) inria.fr

Phone: +33(0)4-92-38-79-79

Skype Id: pierre.kornprobst73