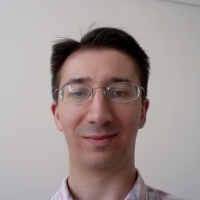 Noël MALOD-DOGNIN
INRIA Sophia Antipolis – Mediterranée
2004, route des Lucioles – BP93
06902 Sophia Antipolis
E-mail: Noel.Malod-dognin@inria.fr
Telephone: +33 4 92 38 75 63
Interests
Protein 3D structure related problems (comparison, folding, docking)
Combinatorial optimisation and graph algorithms
Integer programming and Lagrangian relaxation
Softwares
CSA; Comparative Structural Alignment is a web server for the computation, evaluation and comprehensive comparison of pairwise protein structure alignments. Access CSA web-server.
Vorpatch and Compatch; Tools for computing, characterizing, and comparing protein binding patches. Both softwares are available here.
A_purva; A flexible protein structure comparison tool, based on the maximum contact map overlap approach. A_purva is available via the GenOuest BioInformatics platform.
DAST; A rigid protein structure comparison tool that guaranties that the alignment possesses RMSD of internal distance smaller than a given threshold. DAST will be available soon.
Thesis
Title: "Protein Structure Comparison: From Contact Map Overlap Maximisation to Distance-based Alignment Search Tool".
Defence date: 2010, the 29th of January.
Jury:

President: Pr. D. Lavenier, ENS Cachan Bretagne, France.
Referee: Dr. F. Cazals, INRIA Sophia-Antipolis, France.
Referee: Dr. G.W. Klau, CWI Life Sciences, Netherland.
Member: Dr. J-F. Gibrat, INRA Jouy-en-Josas, France.
Member: Dr. M. Molnár, INSA Rennes, France.
Thesis Advisor: Pr. R. Andonov, University of Rennes 1, France.
Publications
— International journals —
"Stoichiometry determination for mass-spectrometry data: from unbounded knapsack problems to Diophantine equations";
D. Agarwal and N. Malod-Dognin and F. Cazals;
Submitted.
"Characterizing the Morphology of Protein Binding Patches";
N. Malod-Dognin, A. Bansal and F. Cazals;
Accepted – to be published in Proteins, 2012.
[INRIA Tech report 7743]
"CSA: Comprehensive comparison of pairwise structural protein alignments";
I. Wohlers, N. Malod-Dognin, R. Andonov, G.W. Klau;
Nucleic Acids Research 2012; doi: 10.1093/nar/gks362
[INRIA Tech report 7874]
"Maximum Contact Map Overlap Revisited";
R. Andonov, N. Malod-Dognin and N. Yanev;
Journal of Computational Biology, vol 18(1), p. 27-41, 2011.
"Solving Maximum Clique Problem for Protein Structure Similarity";
N. Malod-Dognin, R. Andonov and N. Yanev;
Serdica Journal of Computing, vol 4(1), p. 93-100, 2010.
[INRIA Tech report 6818]
— International conferences —
"Shape Matching by Localized Calculations of Quasi-isometric Subsets, with Applications to the Comparison of Protein Binding Patches";
F. Cazals and N. Malod-Dognin;
Proceedings of the 6th IAPR International Conference on Pattern Recognition in Bioinformatics (PRIB); Pattern Recognition in Bioinformatics, Lecture Notes in Computer Science, vol. 7036, p. 272-283, 2011.
"Using Dominances for Solving the Protein Family Identification Problem";
N. Malod-Dognin, M. Le Boudic-Jamin, P. Kamath, and R. Andonov;
Proceedings of the 11th Workshop on Algorithms in BioInformatics (WABI);
Algorithms in Bioinformatics, Lecture Notes in Computer Science, vol. 6833, p. 201-212, 2011.
[INRIA Tech report 7688]
"SHREC-10 Track: Protein Model Classification";
L. Mavridis, V. Venkatraman, D. W. Ritchie, N. Morikawa, R. Andonov, A. Cornu, N. Malod-Dognin, J. Nicolas, M. Temerinac-Ott, M. Reisert, H. Burkhardt, A. Axenopoulos and P. Daras;
Eurographics Workshop on 3D Object Retrieval (3DOR), p. 117-124, 2010.
[Pdf available on the Eurographics web-site]
"Maximum Clique in Protein Structure Comparison";
N. Malod-Dognin, R. Andonov and N. Yanev;
Proceedings of the 9th International Symposium on Experimental Algorithms (SEA);
Experimental Algorithms, Lecture Notes in Computer Science, vol. 6049, p.106-117, 2010.
[INRIA Tech report 7053]
"An Efficient Lagrangian Relaxation for the Contact Map Overlap Problem";
R. Andonov, N. Yanev and N. Malod-Dognin;
Proceedins of the 8th Workshop on Algorithms in Bioinformatics (WABI);
Algorithms in Bioinformatics, Lecture Notes in Computer Science, vol. 5251, p. 162-173, 2008.
[Authors' version available on HAL]
— National conferences —
"Identification rapide de familles protéiques par dominance";
M. Le Boudic-Jamin, N. Malod-Dognin, A. Cornu, J. Nicolas and R. Andonov;
Proceedings of the 12th Annual Congress of the French National Society of Operations Research and Decision Science (ROADEF), vol. 2, pp.791-792, 2011 (in french).
[INRIA Tech report 7696]
"Modèle de PLNE pour la recherche de cliques de poids maximal";
N. Malod-Dognin, R. Andonov, N. Yanev and J-F. Gibrat;
Proceedings of the 9th Annual Congress of the French National Society of Operations Research and Decision Science (ROADEF), p. 307-308, 25/02/2008 (In french).
[Authors' version available on HAL]