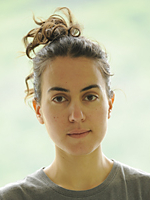 I am a research scientist at Inria (CR1) in the SPADES group.
Contact information
Office B117
Inria Grenoble – Rhône-Alpes
655 Avenue de l'Europe – Montbonnot
38334 St Ismier Cedex – FRANCE
tel: +33 4 76 61 55 31
email: firstname.lastname@inria.fr
Upcoming events in 2016
October 4-6, 2017: RTNS'17 – International Conference on Real-Time Networks and Systems (organization committee & accepted paper)
October 15, 2017: Beyond the Deadline: New Interfaces Between Control and Scheduling for the Design and Analysis of Critical Embedded Systems – Tutorial at ESWeek'17 (co-organizer)
October 15-20, 2017: EMSOFT'17 – ACM SIGBED International Conference on Embedded Software (PC member)
December 5, 2017: TuToR'17 – 2nd Tutorial on Tools for Real-Time Systems at RTSS'17 (co-chair)
Research Interests
My research interests include real-time systems, contract theories and computer-assisted proofs.
Projects
CASERM: Design and Analysis of Reconfigurable Multi-view Embedded Systems – Jun. 2016 to Dec. 2019
CCC Research Unit: Controlling Concurrent Change (I focus on formal methods for contracting) – Since Apr. 2013
Causalysis: Associate team on Causality Analysis for Safety-Critical Embedded Systems – 2015 to 2017
Publications
You can find more information on my publications here.
Program committees etc.
EMSOFT'17, ECRTS'17, WMC'16, RTSS'16 (artifact evaluation committee member), JRWRTC'16, RTNS'16 (PC member and artifact evaluation chair), CAIRES'16 (co-organizer), ECRTS'16, (PC and artifact evaluation committee member), WATERS'16 (co-chair), TuToR'16 (co-chair), RTAS'16 (demo chair), WMC'15, ETFA'15, ECRTS'15, WATERS'15 (co-chair), DisCoTec'15 (workshops chair), MOMAC'15, WMC'14, ECRTS'14, ECRTS WiP'14, ISPA'14, FORTE'14, FMTV'14 (co-chair), MOMAC'14, FORTE/FMOODS'13, ISoLA'12 (track co-chair), ICE'11, ICE'10
Short biography
Since 2013 research scientist at Inria (CR) in the SPADES group
2011-2013 Postdoc at the Institute of Computer and Network Engineering of TU Braunschweig with Rolf Ernst
2011 PhD in Computer Science at VERIMAG under the supervision of Susanne Graf
2005 MSc in Computer Science and Telecommunications at ENS Cachan – Bretagne (now ENS Rennes)
2003 Licence (Bachelor's degree) in Mathematics at Université Rennes 1
Past events

June 27-30, 2017: ECRTS'17 – 29th Euromicro Conference on Real-Time Systems (PC member and accepter paper)
June 27, 2017: WATERS'17 – 8th International Workshop on Analysis Tools and Methodologies for Embedded and Real-time Systems (co-chair)
March 27-31, 2017: DATE'17 – Design, Automation and Test in Europe (accepted paper)
November 29 – December 2, 2016: RTSS'16 – IEEE Real-Time Systems Symposium (artifact evaluation committee member)
November 29, 2016: WMC'16 – 4th International Workshop on Mixed Criticality Systems (PC member)
October 19-21: RTNS'16 – 24th International Conference on Real-Time Networks and Systems (PC member and artifact evaluation chair)
October 19: JRWRTC'16 – 10th Junior Researcher Workshop on Real-Time Computing (PC member)
October 6: CAIRES'16 – 1st Workshop on Collaboration of Academia and Industry for Real World Embedded Systems (co-organizer)
July 5-8, 2016: ECRTS'16 – 28th Euromicro Conference on Real-Time Systems (PC member)
July 5, 2016: WATERS'16 – 7th International Workshop on Analysis Tools and Methodologies for Embedded and Real-time Systems (co-chair)
April 12, 2016: Demo session at RTAS'16 – 22nd IEEE Real-Time Embedded Technology & Applications Symposium (demo chair)
April 11, 2016: TuToR'16 – 1st Tutorial on Tools for Real-Time Systems at CPSWeek'16 (co-chair)
December 1st, 2015: WMC'15 – 3rd International Workshop on Mixed Criticality Systems (PC member)
September 8-11, 2015: ETFA'15 – 20th IEEE International Conference on Emerging Technologies and Factory Automation (PC member in Track 3)
Past projects
CTRC: Certified and Configurable Real-Time Components – Apr. 2015 to Sep. 2016
CERTAINTY: Certification of real-time applications designed for mixed criticality – Oct. 2012 to Oct. 2013
TIMMO-2-USE: Timing constraints for the design of distributed automotive systems – Jan. 2011 to Sep. 2012