Smart Environments Lab
Description
The Smart Environment Lab is a In-Vitro experimental site for experiences in observation of human activity for smart systems and services. The platform is composed of a 50 square meter space located in the Montbonnot INRIA site. The lab space is organized as a kitchen, a living room and a meeting room, and equipped with a KNX electrical sensing and control system, multiple cameras, microphones etc.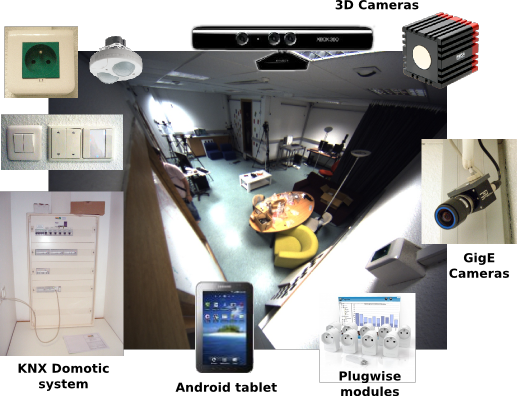 Objectives
The system is currently used for experiments in integrating information from electrical activity, computer activity, infrared presence, acoustic signals and visual action recognition to construct a model of activity. This will be used for learning and predicting activity sequences. The system is used to develop and test software for:
Fusion of information for activity modeling
Recognition of activity classes
Leaning predictive models for activity sequences, and daily living patterns.
Contacts
This platform is opened to LIG and INRIA teams. To use this platform, contact Amaury Nègre.