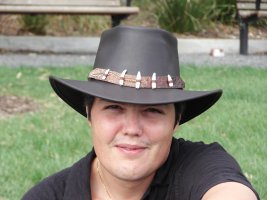 Professor in anatomy and neurosurgeon at the University Hospital of Grenoble (assistant prof until sept 2011): Olivier is focusing his research on the use of virtual models to express morphology and spatial relationships between organs. In the IMAGINE project, he will study the use of a priori anatomical knowledge in 3D modelling based on sketches; set up new ways of interacting with anatomical knowledge; and explore applications to the education domain. Olivier Palombi is in charge, at the national level, of the "Digital Campus of Anatomy".
Go to: Personal Webpage: http://evasion.inrialpes.fr/~Olivier.Palombi/
Short CV
Olivier Palombi, MD, PhD
Professor at University of Joseph Fourier (UJF)
Diploma
Undergraduate qualifications
University Paris V, Necker Children's Hospital, Paris, (1990-1996): General Medicine.
Postgraduate qualifications
2002 MD, Neurosurgery, University Joseph Fourier (UJF), Grenoble, (1996-2002).
2006 Ph.D. Computer Graphics, Grenoble Institute of Technology (INPG).
2010 Habilitation Medecine, University Joseph Fourier, Grenoble.
Appointments held
since 2011 : Professor of Anatomy and Neurosurgery, (University Hospital of Grenoble, UJF).
2007-2011 : Assistant Professor, University Hospital of Grenoble.
2005-2007 : Fellow in Anatomy and Neurosurgery, Pr J-G Passagia, Grenoble.
2004-2005 : Honoraray Senior Research Associates of POWMRI, Pr G Paxinos , Sydney, Australia).
2003-2004 : Fellow in Anatomy and Neurosurgery: Pr A-L Benabid, Grenoble.
1998: 2003 : Resident in Neurosurgery: Pr A-L Benabid, Grenoble.
Research interests and Publications
Anatomical modeling, Real time simulation, Formal representation of anatomical knowledge (ontologies), Teaching of Anatomy using ICT.
3 PhD thesis (co-advised)
Publications :

15 Journal papers (international, refereed)
1 Book edited and 3 Book chapters
5 International conference papers, (refereed, selection committee)
5 recent publications :
M. Bucki, O. Palombi, M. Bailet, and Y. Payan. Doppler Ultrasound Driven Biomechanical Model of the Brain for Intraoperative Brain-Shift Compensation: A Proof of Concept in Clinical Conditions. Soft Tissue Biomechanical Modeling for Computer Assisted Surgery Springer (Ed.) (2012).
Palombi O, Pihuit A, Cani MP. 3D Modeling of branching vessels from anatomical sketches: towards a new interactive teaching of anatomy: Interactive virtual blackboard. Surg Radiol Anat. 2011 Sep;33(7):631-6. Epub 2011 May 27.
Merabti T, Soualmia LF, Grosjean J, Palombi O, Müller JM, Darmoni SJ. Translating the Foundational Model of Anatomy into French using knowledge-based and lexical methods. BMC Med Inform Decis Mak. 2011 Oct 26;11:65.
O Palombi, G Bousquet, D Jospin. S Hassan. L Reveret & F Faure. Magnenat-Thalmann, N. (Ed.) My Corporis Fabrica: A Unified Ontological, Geometrical and Mechanical View of Human Anatomy Modelling the Physiological Human, Magnenat-Thalmann, N. (Ed.), Springer Berlin / Heidelberg, 2009, 5903, 209-219 Lecture notes in computer science (LNC), Springer (2009).
Palombi O, Shin JW, Watson C, Paxinos G Neuroanatomical affiliation visualization-interface system. Neuroinformatics; 4(4):299-317. (2006).
Projects and Collaborations :
Creator of My Corporis Fabrica. MyCF is collaborative project focused on the anatomical knowledge and its computational representation for anatomical modeling. Web site of the project : http://www.mycorporisfabrica.org/
ANR SoHuSIm, 2010-2014, Coordinator B. Gilles (LIRMM), Partner LJK.
Responsible of the French Campus numérique of anatomy : http://campusdanatomie.org/
Clinical and University duties :
Clinical duties : Neurosurgery (more than 200 surgical procedures a year), Clinical studies in neurosurgery.
University duties: Medical Gross Anatomy (40h a year), Neuro-anatomy lessons for medical students (35h a year)
Service to the community :
Member of CNU (National University Council) 42-01 (anatomy), (2009-2011).
Publications
Publication list of Olivier Palombi