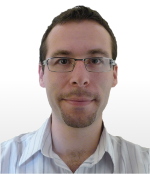 Assistant Professor of Computer Science at CPE Lyon, he is specialized in geometrical modeling, deformation and animation. His recent work includes anatomical and complex mathematical surface visualization, wrinkled cloth animation, constant volume deformation for skinning, and developable surface deformation.
Short CV
Damien Rohmer
Assistant Professor, CPE Lyon.
Diploma
2007 Engineer, in Electronics, Telecomunication and Computer Science, CPE Lyon.
2007 M.Sc , Computer Science, University Jean-Monnet, Saint-Etienne.
2011 Ph.D. Computer Graphics, Grenoble University (Grenoble INP), France (advisor: Marie-Paule Cani).
Appointments held
since 2010 : Assistant Professor, CPE-Lyon.
2007-2010 : Grad Student teaching position, Polytech Grenoble, UFR-IMAG, ENSIMAG (Grenoble INP).
2006-2007 : Research assistant, Lawrence Berkeley National Laboratory (LBNL), Berkeley, California.
Research interests and Publications
Computer Graphics: Modeling, animation and deformation of 3D models.
3 Internships and M.Sc co-advised
Publications :

1 Journal papers (international, refereed).
1 Book chapter.
3 International conference papers, (refereed, selection committee).
12 technical reports, posters or invited talks.
5 recent publications :
Damien Rohmer, Tiberiu Popa, Marie-Paule Cani, Stefanie Hahmann, Alla Sheffer. Animation Wrinkling: Augmenting Coarse Cloth Simulations with Realistic-Looking Wrinkles. ACM Transactions on Graphics (TOG). Proceedings of ACM SIGGRAPH Asia.
December, 2010.
Damien Rohmer, Stefanie Hahmann, Marie-Paule Cani . Active Geometry for Game Characters. Springer, Lecture Notes in Computer Science (LNCS). Proceedings of Motion in Games (MIG). December, 2010.
Damien Rohmer, Stefanie Hahmann, Marie-Paule Cani. Exact Volume Preserving Skinning with Shape Control. ACM/EG Symposium on Computer Animation (SCA). August, 2009.
Damien Rohmer, Stefanie Hahmann, Marie-Paule Cani. Local Volume Preservation for Skinned Characters. Computer Graphics Forum. Proceedings of Pacific Graphics (PG). October, 2008.
Damien Rohmer, Arkadiusz Sitek, Grant T. Gullberg. Reconstruction and Visualization of Fiber and Laminar Structure in the Normal Human Heart from Ex Vivo DTMRI Data. Investigative Radiology. November, 2007
Service to the community :
Member of the Conseil d'Administration of AFIG.
Reviewer for several CG journals and conferences: ACM Siggraph, IEEE CG&A, ACM TOG, IEEE TVCG, Eurographics, SCA.
In charge of Website administration from IMAGINE team.
[2009-2010] Ph.D's student delegate at the Conseil du Laboratoir (LJK).
[2009-2010] Organization of seminar and working group from EVASION team.
[2010-2011] Ph.D's students working group for EVASION team.
[2008-2009] Membre of scientific communication press from Grenoble University journal: Visions Croisées.
Publications
Publication list of Damien Rohmer