Team leader
Thierry Goudon
email: Thierry.Goudon@inria.fr
Assistant
Marie-Cécile Lafont
email: marie-cecile.lafont@inria.fr
tel: (+33) 4 92 38 78 30
Address at Sophia
Inria Sophia Antipolis – Méditerrannée
2004, route des Lucioles – BP93
06902 Sophia Antipolis Cedex
France
Address at Nice
Labo. J. A. Dieudonne

Universite Nice Sophia Antipolis
Parc Valrose
06108 Nice
France
How to get to the Research Center Inria Sophia Antipolis – Méditerranée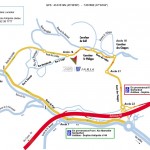 From Nice and/or the airport take the bus Line 230 which provides regular shuttles between Nice, the airport Nice-Côte d'Azur and Sophia Antipolis (40 mn). Ask the driver for the INRIA bus stop.
From Antibes take the Envibus (the name of the bus stop is Gare Sncf – Passerelle). On Line 11 get off at the bus stop INRIA. On Line 1 get off at the bus stop IUT. On Line 100 get off at bus stop Templiers, then walk a little bit.
Here is the map of the bus stops around Inria.
How to get to the laboratory J.-A. Dieudonné
The address is Parc Valrose, University of Nice Sophia Antipolis.
From the highway (A8): Exit "Nice Nord". Go down, towards the Sea… until Borriglione Bld. Turn left (Av. Doyen Lepine). The University is directly in front of you, at the end of the Avenue.
From the train station: catch the Tramway, direction Las Planas. Exit at "Valrose University" and follow the students flow…
From the Airport: Athletic Path consists in renting a Blue Bike, then follow the "Promenade des Anglais", turn left and follow the path of the tramway… Classics: take tramway line 2 to the terminus (Jean Medecin), then, the tramway line 1 to "Valrose Universite".