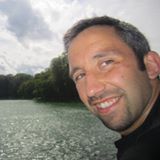 Pierre Merdrignac is currently a research engineer working in perception and vehicular communication for automotive applications. He is mainly involved in developping new applications for Cooperative Intelligent Transport Systems (C-ITS), in particular within the Sinetic project. He was previously a PHD student in RITS team for the VEDECOM institute. Pierre received his Master of Engineering in 2012 from Télécom Bretagne, a French engineering school in the field of information technologies.
Details
Position: Research engineer (from oct. 2015 to sept 2016)
Past position: PHD student (from aug. 2012 to sept 2015)
Contact
Email: pierre.merdrignac@inria.fr
Phone: +33 1 3963 5086
Thesis Description:
"Cooperative perception and communication system for protection of vulnerable road users"
Accidents between vehicles and vulnerable users (pedestrians, bicyclists,…) often result in fatalities and serious injuries, showing the need of technology to protect vulnerable people.
Nowadays, vehicles are equipped with many sensors to model their environment, to localize themselves, detect and classify obstacles, etc. They are also provided with communication devices in order to share information with other road users and the environment.
In this context, the thesis is proposing a new cooperative system between vulnerable people (pedestrians, persons with with reduced mobility, bicyclists,…) and intelligent vehicles in order to improve safety and limit collision risk.
On vehicles side, the system is divided into four parts: obstacle detection, tracking, and classification, sensor-triggered vehicle-to-pedestrians (V2P) communications, fusion between perception and communication information, collision risk estimation.
On pedestrians side, the system is composed of three parts: reception of V2P messages, collision risk estimation and pedestrian-to-vehicle (P2V) messages emission.
First, we focused on obstacle detection, tracking and classification using vehicles embedded sensors. More specifically, we decided to apply machine learning methods to classify road obstacles by defining geometric features in laser measurements.
Then, we studied distributed Wi-Fi communications which have the capabilities to disseminate information with low delay in both line-of-sight (LOS) and non line-of-sight (NLOS) conditions. We also evaluated the accuracy of GPS based positioning for estimating the level of danger in a safety system.
In addition, we developed an application that periodically broadcasts vehicles position and dynamics towards pedestrians. When obstacles are detected by the perception system, alert messages are disseminated to specific geographical areas. Pedestrians can receive these V2P messages on their smartphones and acknowledge this reception by sending back their position and dynamics to the vehicles. This application can alert simultaneously vehicles and pedestrians of dangerous situations.
Finally, we are investigating fusion between perception and communication information to take the benefits of both systems: high range and robustness to occluding obstacles for V2P communication, accurate position estimation and high detection capabilites at low range for perception.
Publications:
2019
Conference papers
2018
Journal articles
2016
Journal articles
Conference papers
2015
Conference papers
Theses
2014
Conference papers
Previous experiences
October, 2011 – March, 2012: Partile filtering for Radar applications, internship at Thales Netherlands, Hengelo, The Neherlands
July, 2010 – September, 2011: Automatic detection and classification of underwater mines from sidescan sonar images, professional training contract at Thales Underwater Systems, Brest, France