Pierre-Loïk ROTHÉ
PhD student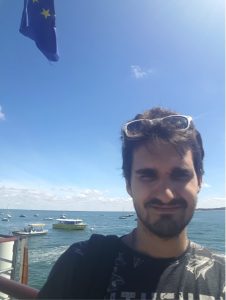 Affiliation
CERMICS/NAVIER, Ecole des Ponts ParisTech
Contact information
Ecole des Ponts ParisTech
6 et 8 avenue Blaise Pascal
Cité Descartes – Champs sur Marne
77455 Marne la Vallée Cedex 2 (FRANCE)
From abroad
Tel: + 33 1 64 15 35 81
email: pierre-loik.rothe@enpc.fr
PhD topic
Numerical methods for the estimation of fluctuations in multi-scale materials and related problems
Supervision: Frédéric LEGOLL
Teaching
Initiation to Research and Innovation workshop, 18-22 september 2017, Palma, Majorca, Spain. Supervision of students from ENPC and from Universitat de les Illes Balears on the project  Reduced Basis Methods for Parameterized Partial Differential Equations.
Conferences and talks 
SciCADE 2017, International Conference on Scientific Computation and Differential Equations, Bath, UK  09/11/2017 -09/15/2017. (Oral presentation)
USNCCM14, 14th U.S. National Congress on Computational Mechanics Montreal, Canada 07/17/2017 – 07/20/2017. (Oral presentation)
Congrès SMAI 2017, Société de Mathématiques Appliquées et Industrielles, La Tremblade 06/05/2017 – 06/09/2017. (Oral presentation)
Winter School on Numerical Analysis of Multiscale Problems, Hausdorff Research Institute for Mathematics (HIM) Bonn, Germany 01/09/2017 – 01/13/2017.
Recent developments in numerical methods for model reduction, IHP (Institut Henri Poincaré), Paris 11/07/2016 – 11/10/2016.
Curriculum vitae:  resume