Description
Arterial spin labeling (ASL) is a novel MRI sequence which allows non invasive imaging and quantification of brain perfusion by magnetically labeling blood in the brain-feeding arteries. The purpose of the project is to evaluate and optimize sequence parameters, assess the potential for clinical applications of ASL and functional ASL, as well as propose novel methods of ASL image processing. Several projects concerning ASL are listed below.
Introduction to ASL
Sequence parameters
We performed two studies in order to select the optimal imaging parameters for our ASL sequences on a set of healthy volunteers. In the first one, we studied the influence of the inversion time on the quality of ASL images, the number and severity of the EPI and vascular artifacts and amount of noise in the images. In the second study, we performed qualitative and quantitative analysis of the quality of ASL images for different receiver coils, parallel imaging techniques and acceleration factors.
Functional ASL and comparison with BOLD
Recently proposed for activation-functional imaging (fASL), this technique is potentially a more direct biomarker of neuronal activity than the standard BOLD fMRI. Indeed, fASL allows direct and absolute quantification of activation-related cerebral blood flow (CBF) variations at capillary scale, whereas BOLD signal is multi-factorial, resulting from simultaneous variations of CBF, cerebral blood volume and cerebral oxygen consumption. We are studying the difference of functional ASL and BOLD methods on healthy volunteers.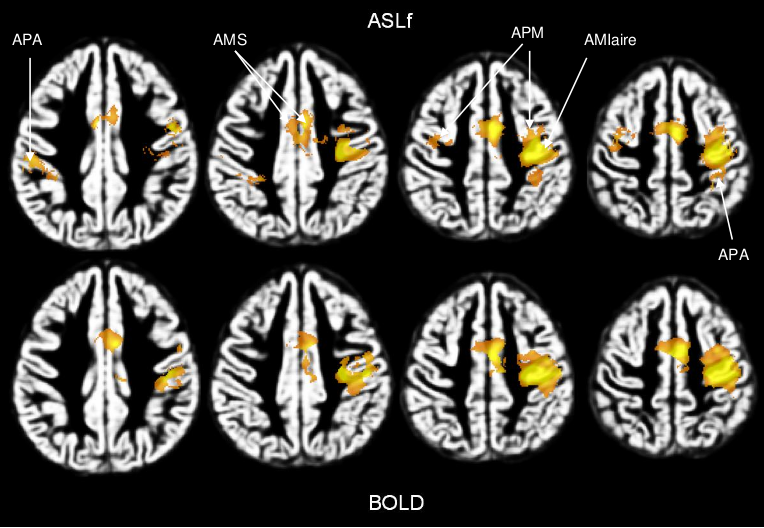 Methods for denoising ASL data
Construction and evaluation of perfusion template
Clinical projects
Currently, we are working on several clinical projects involving application of ASL on patients with multiple sclerosis or psychiatric disorders.
Related Publications of the Team