C-CRAFT software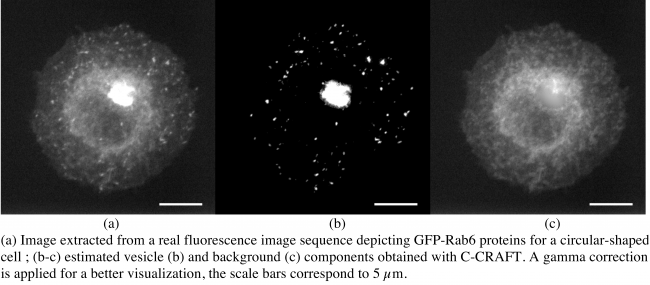 Overview
The C-CRAFT software written
in C++ enables to segment particles and estimate background in 2D or 3D image sequences.
We consider a statistical Bayesian approach in the framework of conditional random fields. Within this approach, we take advantage of a robust detection measure for fluorescence microscopy based on the distribution of neighbor patch similarity. We formulate the vesicle segmentation and background estimation as a global energy minimization problem. An iterative scheme to jointly segment vesicles and background is proposed for 2D-3D fluorescence image sequences.
Software distribution
C-CRAFT demonstration
You can try C-CRAFT on our mobyle web portal: Try C-CRAFT
C-CRAFT plugin
C-CRAFT is also available on the Icy platform
Reference
T. Pécot, P. Bouthemy, J. Boulanger, A. Chessel, S. Bardin, J. Salamero et C. Kervrann. Background fluorescence estimation and vesicle segmentation in live cell imaging with conditional random fields. Transactions on Image Processing, 24(2): 667-680, 2014. DOI: [[http://dx.doi.org/10.1109/TIP.2014.2380178| 10.1109/TIP.2014.2380178 ]]