Congratulations to Fabien Spindler (Inria Research Engineer) and François Chaumette (Inria Research Director) as well as the other members of the H2020 Comanoid project consortium coordinated by Abderrahmane Kheddar (CNRS Research Director at LIRMM), who were awarded at the ICRA 2020 conference the IEEE Robotics and Automation Magazine's 2019 Best Paper Award for the article :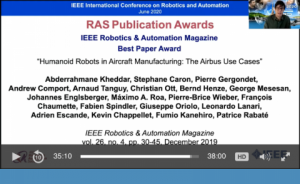 A. Kheddar, S. Caron, P. Gergondet, A. Comport, A. Tanguy, C. Ott, B. Henze, G. Mesesan, J. Englsberger, M. Roa, P.-B. Wieber, F. Chaumette, F. Spindler, G. Oriolo, L. Lanari, A. Escande, K. Chappellet, F. Kanehiro, P. Rabate. Humanoid robots in aircraft manufacturing. IEEE Robotics and Automation Magazine, 26(4):30-45, December 2019.
The authors have unanimously decided to donate the amount of their prize (1000 USD) to the association Médecins sans frontières.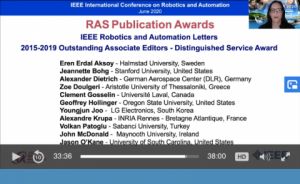 Congratulations to Alexandre Krupa (Inria Researcher) who received a
"Distinguished Service Award" as Associate Editor of the
IEEE Robotics and Automation Letters.