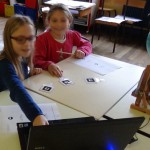 SATT Nancy Grand Est 
2015-2016
Partners: Université de Lorraine – PErSEUs team
HELIOS is an Augmented and Inquiry-Based Learning Environment (AIBLE) that is targeted at children learning astronomy at school. This system is based on tangible interaction and augmented reality.
In this project, the Potioc team will focus on the development of a end-user application.