EPITAG is an Inria Associate team that is part of the
LIRIMA
(International Laboratory for Computer Sciences and Applied Mathematics). It was launched in 2017 between Inria project team
BIOCORE
and the Universities of
Douala
,
Dschang
&
Yaoundé I
, in collaboration with
Cirad
.
EPITAG gathers
French
and
Cameroonian
researchers with a background in
dynamical systems
and
control
and an interest in
crop diseases
.
EPITAG in short
Pests and pathogens are responsible for considerable losses in food and cash crops. Their control is hence a major issue, especially in countries such as Cameroon, where agriculture is an important sector in terms of revenues and employment. To help design efficient strategies for integrated pest management, mathematical models are particularly relevant.

Our main objective is to study the epidemiology and management of tropical crop diseases, with a focus on Cameroon. Our approach consists in developing and analysing dynamical models describing plant-parasite interactions, in order to better understand, predict and control the evolution of damages in crops. To ensure the relevance of our models, field experts and stakeholders need to be closely associated. We focus on pest and pathogens that affect major staple food and cash crops, such as cocoa plant mirids, plantain and banana plant-parasitic nematodes, coffee berry borers, coffee leaf rust, maize stalk borers, cabbage diamondback moths, papaya mealybugs, etc. To tackle these issues, we jointly supervise master and PhD students.

Keywords: mathematical models; dynamical systems; control theory; optimisation; plant epidemiology; tropical crops; crop pests and pathogens; integrated pest management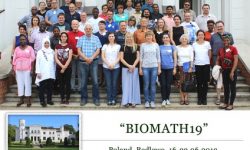 Conferences attended by EPITAG participants: SANUM, AgriNumA, CMPD5, BIOMATH
Israël was awarded an EMS-Simons for Africa PhD development grant at the November 2018 deadline.