Generative Model of Heart Growth using Exoshape
Details on the methodology used for the pipeline and code presented here are in the following publication:

Tommaso Mansi, Ingmar Voigt, Benedetta Leonardi, Xavier Pennec, Stanley Durrleman, Maxime Sermesant, Hervé Delingette, Andrew M. Taylor, Younes Boudjemline, Giacomo Pongiglione, and Nicholas Ayache. A Statistical Model for Quantification and Prediction of Cardiac Remodelling: Application to Tetralogy of Fallot. IEEE Transactions on Medical Imaging, 9(30):1605-1616, September 2011. 



 [bibtex-entry]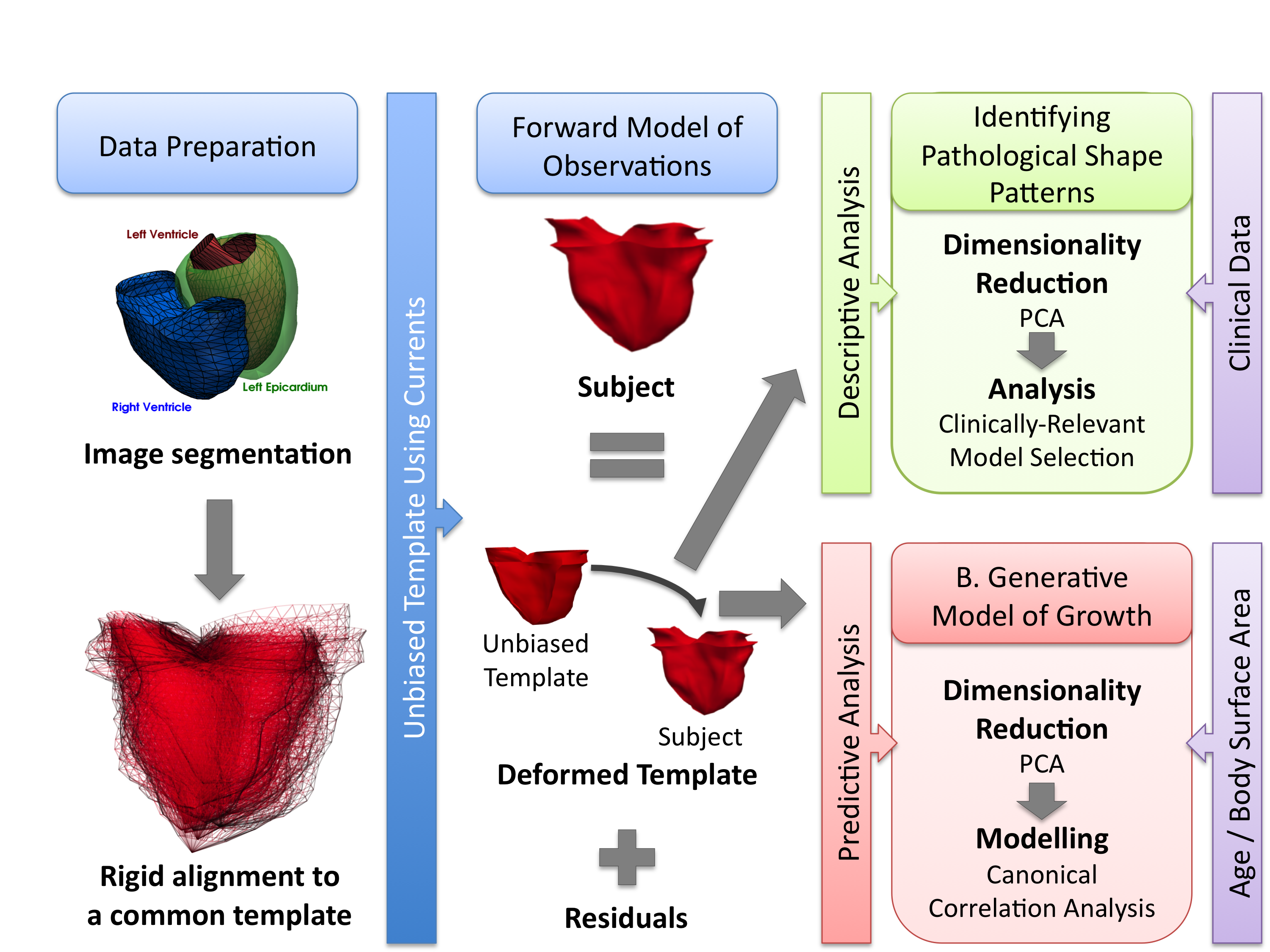 Download section
Get the software
| | |
| --- | --- |
| Software name | File to download |
| Exoshape | exoshape.zip (Matlab) |
| Exostat | Available soon (Matlab & R) |
| Remodelling model | model.zip (vtk) |
Requirements
How to install the tools
Linux FC10 64b
Download FFTW library from http://www.fftw.org/ (http://www.fftw.org/install/windows.html for windows)
Configure, compile and install the library as follows (the library will be installed in the install_dir)

./configure –prefix=install_dir–disable-fortran –enable-threads –with-pic
make
make install

In Matlab, compile projConvol.cpp, convol.c and gridOptim.c as follows

mex file.c -lfftw3 -Linstall_dir/lib -Iinstall_dir/include
Copyright and licenses, conditions of use:
Software EXOSHAPE ©INRIA 2009, version 1.0 hereinafter "the Software".
The Software has been developed by Stanley Durrleman of the Asclepios team at INRIA (Institut National de Recherche en Informatique et Automatique).
Based on MATCHINE v1.0 software. Copyright Université Paris Descartes. Contributor: Joan Alexis GLAUNES (2006) alexis.glaunes@mi.parisdescartes.fr. MATCHINE is a computer program whose purpose is to calculate an optimal diffeomorphic transformation in 3D-space that allows to match two datasets like points, curves or surfaces.
The MATCHINE software is governed by the CeCILL-B license under French law and abiding by the rules of distribution of free software. You can use, modify and/ or redistribute the software under the terms of the CeCILL-B license as circulated by CEA, CNRS and INRIA at the following URL "http://www.cecill.info".
As a counterpart to the access to the source code and rights to copy, modify and redistribute granted by the license, users are provided only with a limited warranty and the software's author, the holder of the economic rights, and the successive licensors have only limited liability.
In this respect, the user's attention is drawn to the risks associated with loading, using, modifying and/or developing or reproducing the software by the user in light of its specific status of free software, that may mean that it is complicated to manipulate, and that also therefore means that it is reserved for developers and experienced professionals having in-depth computer knowledge. Users are therefore encouraged to load and test the software's suitability as regards their requirements in conditions enabling the security of their systems and/or data to be ensured and, more generally, to use and operate it in the same conditions as regards security.
The fact that you are presently reading this means that you have had knowledge of the CeCILL-B license and that you accept its terms.
INRIA, Domaine de Voluceau, Rocquencourt – BP 105
78153 Le Chesnay Cedex, FRANCE
INRIA holds all the ownership rights on the Software. The Software has been registered with the Agence pour la Protection des Programmes (APP) under registration number IDDN.FR.001.410028.000.S.A.2009.21000
INRIA freely grants the non exclusive right to use the Software to research purposes. Every user of the Software will communicate to the Asclepios team (xavier.pennec@inria.fr) their remarks as to the use of the Software.
NO COMMERCIAL USE, EXPLOITATION NOR DISTRIBUTION IS AUTHORIZED BY THIS LICENSE. PLEASE CONTACT INRIA IF SUCH USE IS DESIRED.
THIS SOFTWARE IS PROVIDED "AS IS" AND ANY EXPRESS OR IMPLIED WARRANTIES, INCLUDING, BUT NOT LIMITED TO, THE IMPLIED WARRANTIES OF MERCHANTABILITY AND FITNESS FOR A PARTICULAR PURPOSE ARE DISCLAIMED. IN NO EVENT SHALL INRIA OR THE AUTHOR BE LIABLE FOR ANY DIRECT, INDIRECT, INCIDENTAL, SPECIAL, EXEMPLARY, OR CONSEQUENTIAL DAMAGES (INCLUDING, BUT NOT LIMITED TO, PROCUREMENT OF SUBSTITUTE GOODS OR SERVICES, LOSS OF USE, DATA, OR PROFITS OR BUSINESS INTERRUPTION) HOWEVER CAUSED AND ON ANY THEORY OF LIABILITY, WHETHER IN CONTRACT, STRICT LIABILITY, OR TORT (INCLUDING NEGLIGENCE OR OTHERWISE) ARISING FROM, OUT OF OR IN CONNECTION WITH THE SOFTWARE OR THE USE OR OTHER DEALINGS IN THE SOFTWARE.