By Raphaël Truffet; Edited by Camille Maumet.
ISMRM 2019 is over and we are excited to get back to the lab and start applying the new ideas that emerged at the meeting. Raphaël Truffet, trainee in the Empenn lab, was attending ISMRM this year for the first time. Here, he shares his 7 top highlights from the meeting.

Hi! I've just come back from Canada, and Montreal is a very nice city with the Saint-Laurent river, its poutines, and its ISMRM conference. It was my first time in a conference, let me tell you why I enjoyed it. Here are my top 7 interests of the conference! (number 2 will surprise you):
7. Stepping back: I think attending a conference is the best way to step back on my research, and consider my work as a part of something bigger. Since I'm young in this field, it was really interesting to see people working on every kind of MRI, I could even learn new things just by reading the program. And even on diffusion MRI and microstructure, that are the fields I am working on, I could have an overview of what people are working on and understand it better.
6. Feeling useful: It was my first attendance to a conference, but I was also presenting a digital poster. It was a good occasion to realize that some people are interested in my work. I also heard several times people complaining about poor sequences, while I am working on improving sequences, this let me imagine that my work may be even more appreciated in the future.
5. Identifying hot topics: Even if the year of publication is written on every paper, I never really payed attention to it. Now I realize that some subjects are more fashionable than others. Of course, I saw a lot of deep learning, but I also realized that many people were working on B-tensors. It was also good to see that my topic, that is generalized diffusion gradient waveforms, was of interest to many people.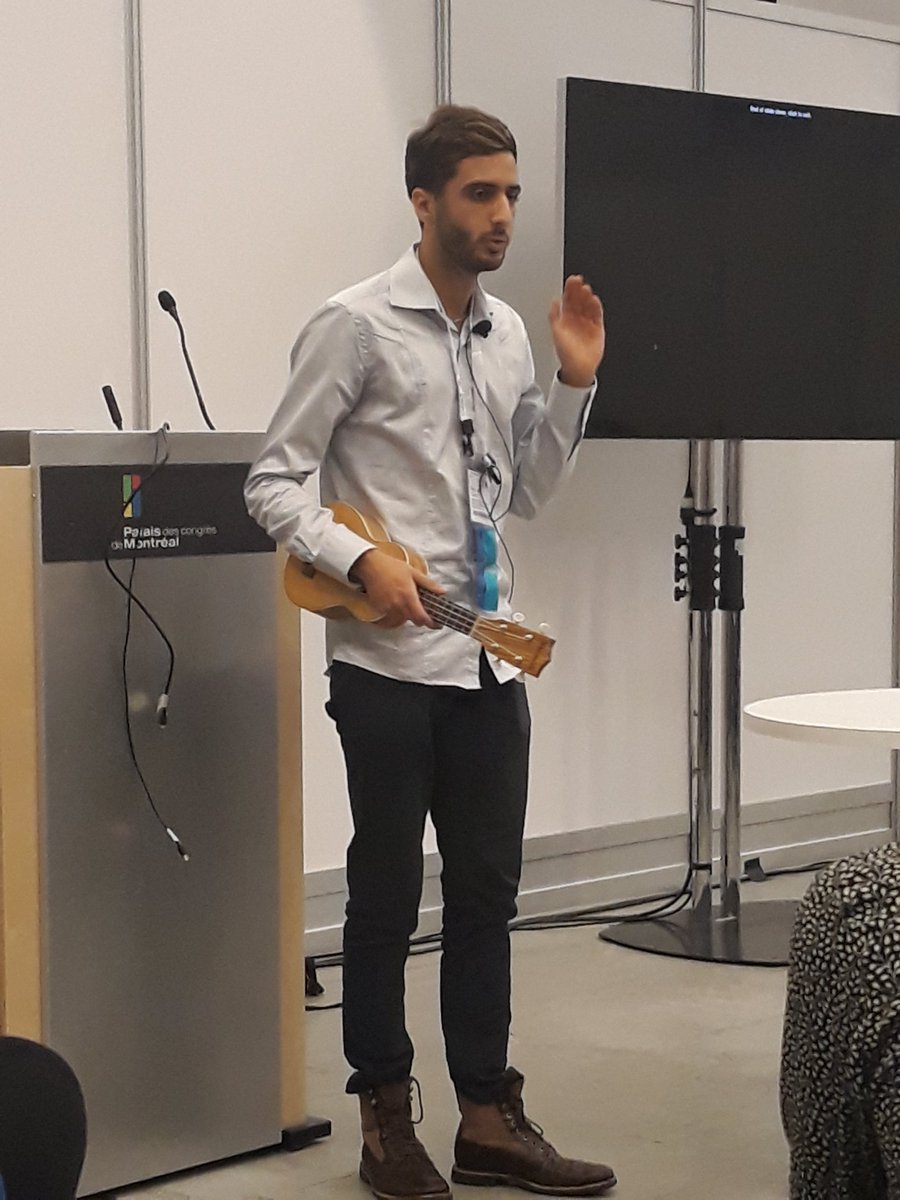 4. Finding new ideas: It is efficient to work alone in an office, but it is even more productive to listen to talks in order to find some new ideas. For example, I found several constraints that I could add to my model to limit the number of degrees of freedom. I understand better the interest of the b-value and discovered new measures on gradient waveforms that I can use. There are also several algorithms that I would like to use to complete my pipeline, in particular for the microstructure estimation.
3. The closing party: A good surprise. I was really not expecting such an animation during the conference, the concert (Boogie Wonderband) and the other artists were very good and impressive. It's not easy to bring so many researchers to dance. And the buffet was also very tasty. Funny moments that I will remember!
2. The magnetic moments competition: The scientific outreach competition! I was so happy to be finalist thanks to my video (if you haven't seen it yet, it's on Youtube). By the way, my face was the first thing I saw in the conference: I had just climbed the escalator and the first thing I saw in the entrance hall is a television broadcasting all the videos of the finalists, and at that time, it was my video. I was also a bit nervous and stressed because of the live competition. In fact, I had to make a live version of my video and present it in front of an audience and a jury, including a 14 years old teenager. I didn't win but I am not disappointed, it was already very impressive to be in the final, and my competitors were very good. All the videos are available online.
1. Meeting people: The best interest of the conference was clearly to meet new faces. I realized that the names of the authors of papers correspond to real people, real humans! Even if there were more than 5,000 people in the conference, it was still possible to meet people that are working on subjects close to mine, especially in the workshop about white matter that occurred one day after the conference and gathered a smaller crowd, which made interactions easier. I discovered what "networking" really means. But besides work relations, some of these people were good fellows to hang out on the evening.