PhD candidate on the topic of Interactions with soft robotics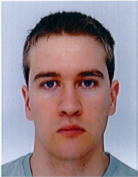 Advisors : Christian Duriez and Laurent Grisoni
Affiliation : University of Lille (Lille 1 then Lille3), France.
Phone: 03 59 57 78 14
Adress : Office A211, 40 Avenue Halley Bat A, 59650 Villeneuve d'Ascq, France.
Mail : frederick.largilliere@inria.fr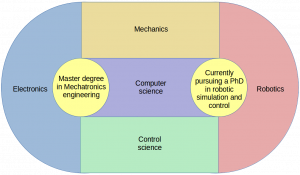 Conference papers

F Largillière, E Coevoet, M Sanz-Lopez, L Grisoni, and C Duriez. Stiffness rendering on soft tangible devices controlled through inverse FEM simulation. IROS 2016.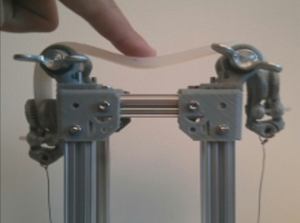 Haptic rendering of soft bodies is essential in medical simulations of procedures such as surgery or palpation. The most commonly used approach is to recreate the sense of touch using a specific design and control of a robotic arm. In this paper, we propose a new approach, based on soft-robotics technology. We create a tangible deformable device that allows users to " touch " soft tissues and perceive mechanical material properties, in a realistic manner. The device is able to dynamically provide user touch with different stiffness perceptions, thanks to actuators placed at the boundaries. We introduce a control algorithm, based on inverse Finite Element Analysis, which controls the actuators in order to recreate a desired stiffness that corresponds to the contact with soft tissues in the virtual environment. The approach uses antagonistic actuation principle to create a wide range of stiffness. We validate our algorithm and demonstrate the method using prototypes based on simple mechanisms.
F Largillière, V Verona, E Coevoet, M Sanz-Lopez, J Dequidt, C Duriez. Real-time control of soft-robots using asynchronous finite element modeling. ICRA 2015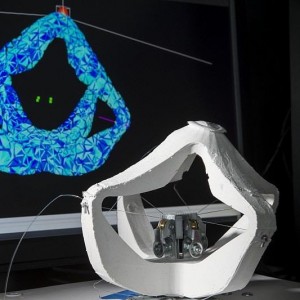 Finite Element analysis can provide accurate de-formable models for soft-robots. However, using such models is very difficult in a real-time system of control. In this paper, we introduce a generic solution that enables a high-rate control and that is compatible with strong real-time constraints. From a Finite Element analysis, computed at low rate, an inverse model of the robot outputs the setpoint values for the actuator in order to obtain a desired trajectory. This inverse problem uses a QP (quadratic-programming) algorithm based on the equations set by the Finite Element Method. To improve the update rate performances, we propose an asynchronous simulation framework that provides a better trade-off between the deformation accuracy and the computational burden. Complex computations such as accurate FEM deformations are done at low frequency while the control is performed at high frequency with strong real-time constraints. The two simulation loops (high frequency and low frequency loops) are mechanically coupled in order to guarantee mechanical accuracy of the system over time. Finally, the validity of the multi-rate simulation is discussed based on measurements of the evolution in the QP matrix and an experimental validation is conducted to validate the correctness of the high-rate inverse model on a real robot.
F Largillière, E Coevoet, L Grisoni, C Duriez. Real-time FEM based control of soft surgical robots. SURGETICA 2014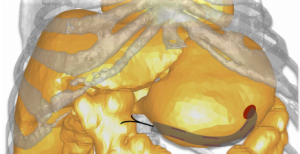 In this paper, we present a new method for the control of soft surgical robots based on the real-time inverse simulation with internal deformation computed through the use of Finite Element Method. We also consider the coupling of this method with a modified version of the same algorithm for parametrization of soft-tissue models, in order to control the navigation of the robot while gathering information on the surrounding organs.
Teachings
Polytech'Lille [Engineering] (2014-2016) : practicals
Numerical Control (L3)
Industrial Networks (M1)
Robotics (M1) (only in 2015-2016)
Tutoring of a robotic project using Nao (L3) (2 students only in 2014-2015)
Tutoring of internships in intelligent systems department (IMA) (3x M1, 3x M2 only in 2015-2016)
University Lille 3  [Science of information] (2016-2017) : course and practicals
Fundamentals of Computer Science (L1)
Fundamentals of Networks (L1)
Internet and associated languages (L2)
Teaching for the Certification in Computer Science and Internet usage (C2i) (L2-L3)